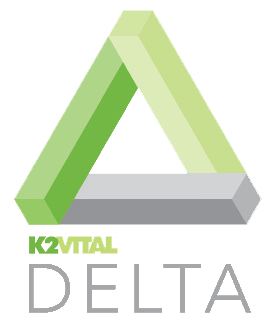 The New Standard in Vitamin K2
Introducing K2VITAL® Delta
K2VITAL® Delta is pure MK-7 delivered in a unique double coated microencapsulation product.
Following the lead from other fat soluble vitamins, vitamin K2 MK-7 has obtained the same protection – the first and only microencapsulated vitamin K2 MK-7 in the market. Developed in partnership with one of the world's leading life sciences companies, K2VITAL® Delta offers unsurpassed stability in calcium and other mineral formulations.
K2VITAL® Delta's double coated microencapsulation offers the best possible protection against the harshness of certain minerals – alkalinity, tableting pressures and general variations of ingredient qualities, for example.
K2 Inside…Confirmed
K2VITAL® Delta ensures that your consumer receives the intended dose of vitamin K2, and with it, the most optimal bone and heart benefits. K2VITAL® Delta was developed in response to formulation and stability issues that were found to be occurring for the vast majority of producers within various calcium formulations that included vitamin K2.
700 data points from over 100 samples confirmed an industry wide problem, when calcium and vitamin K2 MK-7 are used in combination in tableting procesess, irrespective of vitamin source or geographic location. Alkalinity of certain calcium sources, the often high pressure and temperature generated in the tableting procedures, the various qualities of minerals utilised, combined with the rough surface of most minerals were leading to excessive losses.
Stability of K2VITAL® Delta formulated with calcium carbonate (CaCO3) and a commercial CaCO3 / vitamin K2 product up to 12 months at 25°C & 40°C storage. Excellent recovery of MK7 containing K2VITAL® Delta (approx. 100% recovery, no overage) compared to commercial CaCO3 /vitamin K2 product (85 % recovery, T=0, overage unknown). 
The results of trials conducted internally within both Kappa Bioscience and selected customers have proven K2VITAL®Delta has a recovery rate of MK-7 well above 95%, where calcium and other minerals are present.
Enhanced Benefits, For You and Your Consumer
K2VITAL® Delta ensures optimal activation of the "tri-essentials" – calcium, vitamin D3 and vitamin K2. For the first time, the fullest functional potential can be realised due to greater stability in the aforesaid formulations. These three ingredients, when working together symbiotically, deliver the most optimal bone health benefits.
K2VITAL Delta® – The New Standard in Vitamin K2 MK-7
K2VITAL® Delta offers entry into the bone health market with established claims, and with a proven ingredient, in a cost effective way. With K2VITAL® Delta, you receive the full benefits of K2VITAL® – the purest, most active and safe vitamin K2 MK-7, and the only MK-7 with proven bioavailability – in a stable, double-coated microencapsulated format, the first and only in the market.
For more information, contact Xsto Solutions today!
*These statements have not been evaluated by the Food and Drug Administration. This product is not intended to diagnose, treat, cure or prevent any disease.